R.I.P. Bro. Mark Bern OSB
01/13/23
John Robert Bern was the oldest of two children born to Robert and Josephine Bern in Wahoo, Nebraska, on September 27, 1930. John received his elementary schooling at Saint Wenceslaus Catholic Grade School in Wahoo and graduated from Wahoo High School in 1948.  After graduation, John worked on the family farm until he was drafted in 1951.  He served for two years in the Army with intelligence operations during the Korean War. After discharge from the Army, John returned to the family farm. He also worked at a packing plant for a time in addition to his duties on the farm.
John came to Mount Michael Abbey on January 6, 1962. He entered the novitiate on July 25, the feast of Saint James, in 1962. He first professed as a Benedictine monk in 1963, taking the monastic name Mark, with the profession of perpetual vows in 1966.
Many of his contributions to Mount Michael Abbey were in long-held assignments. Bro. Mark was our chief auto mechanic and manager of our fleet of vehicles for the community until recent health issues slowed him in August 2022.  Because of Bro. Mark's diligent care, vehicles often traveled more than 200,000 miles before being traded. He was our wastewater treatment plant operator for thirty-eight years. In 1974, Bro. Mark was honored by the Nebraska Water Pollution Control Association as one of Nebraska's outstanding wastewater plant operators. He was farm and property manager for thirty years. Journey's End Farm, the active farm gifted to the monks of Mount Michael, continued to be operated by Bro. Mark until the arable land was rented out and the cattle sold. The groomed and maintained cross country trails for the school are a testament to Bro. Mark's stewardship. Other monastic duties included a stint as procurator, as vestiarius, and as Abbot's Council member.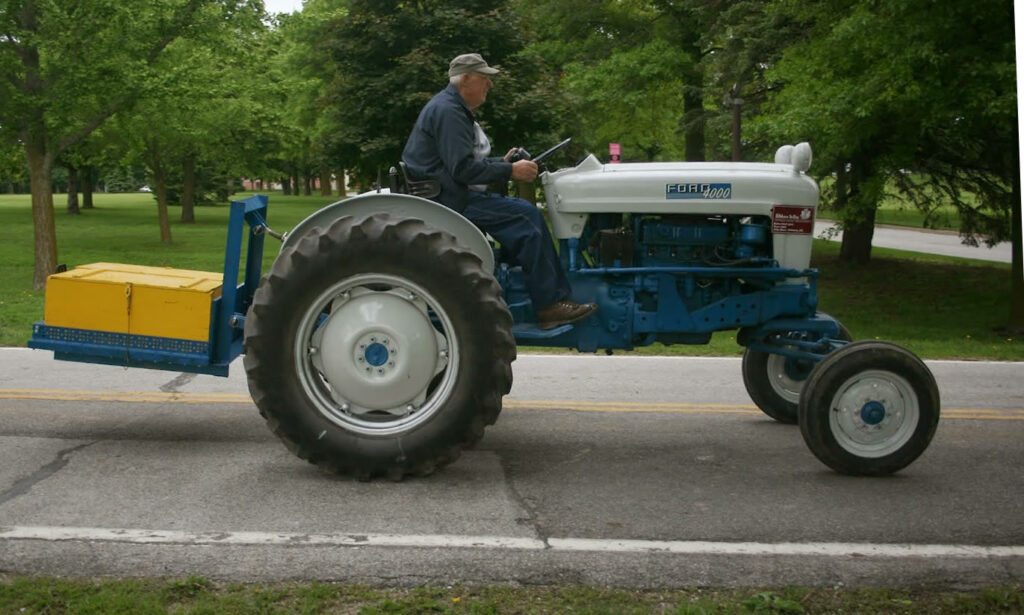 Bro. Mark was an avid reader, particularly enjoying topics of spirituality, history, and geography. His vacations were carefully mapped out to include significant historical and cultural sites. Bro. Mark enjoyed the opportunity to visit with the curator or guide of the site as well as the locals who lived in the area. The travelogues he kept from these excursions are voluminous. Bro. Mark was an active Third-Degree Knights of Columbus member and an active member in the Elkhorn Valley Antique Tractor Association. The latter group provided him an opportunity to showcase his antique, blue Ford tractor at numerous rural city parades.
Bro. Mark Bern, O.S.B. died during dialysis on January 6, 2023 – exactly 61 years after he entered Mount Michael. He was 92 years old. Though Bro. Mark had been receiving dialysis treatment for several years, he felt confident after hearing from his doctor at his check-up when he marked 90 years that his goal of becoming a centenarian was realistic. Many within the community felt he was obstinate enough to attain this goal! Bro. Mark is survived by the community of Mount Michael Benedictine Abbey as well as his brother and sister-in-law Carl and Nancy Bern; nephew Thomas Bern; nephew Steven (Mari) Bern; niece Susanna (Nathan) Carlton; and extended family and friends. Preceding him in death were his parents Robert and Josephine (Woita) Bern. The Vigil Service will be on Friday, January 13 at 7:00 pm in the David "D.J." Sokol Memorial Chapel on the Mount Michael campus. Mass of Christian Burial will be Saturday, January 14 at 10:30 am in the David "D.J." Sokol Memorial Chapel on the Mount Michael campus with interment in Mount Michael Abbey Cemetery.