About Us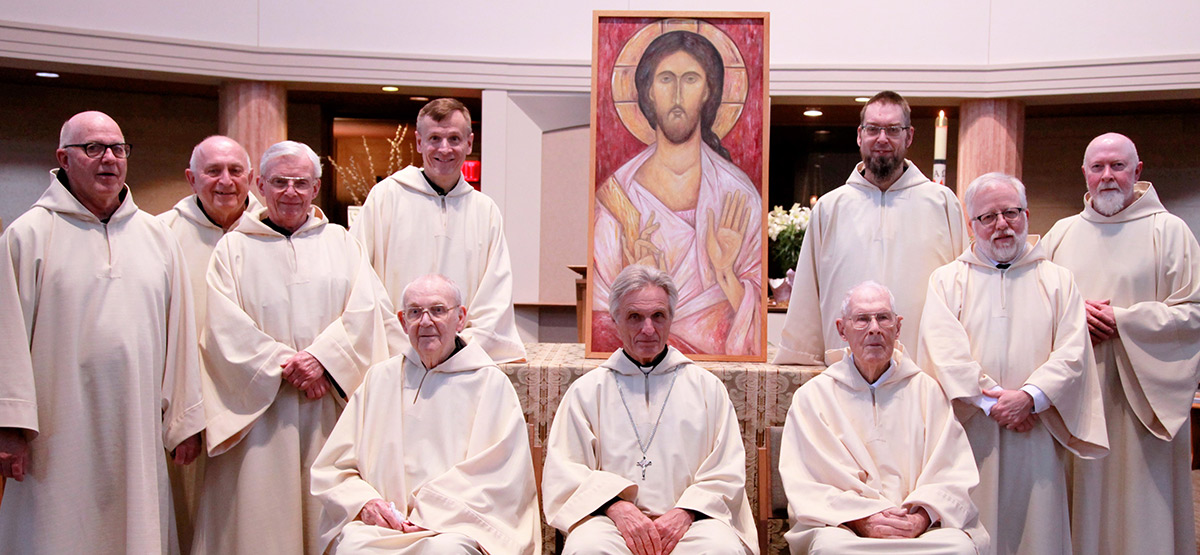 Mount Michael Benedictine Abbey is a foundation of Conception Abbey. In the 1950s Conception Abbey and Seminary, located in Missouri, were growing exponentially. The Seminary boasted 12 years of education—high school, college and theology. It was an ambitious undertaking. Because it was growing so fast, there was a need to move the high school part of the seminary to another location. After much searching, the monks found Rex Olson's farm in Elkhorn, Nebraska, endearingly named Journey's End.
Unlike most monastic foundations, Mount Michael did not build an abbey building at its inception. She threw herself into her primary apostolate—educating and forming young men for the priesthood. It flourished from day one. The dorms were full, and the monks had to live on the top floor of the school until the abbey was built. When the first abbey building was realized, it was a temporary building located a distance away from the school and the chapel. To this day, though the temporary abbey has been replaced, the monks walk to the chapel in the school for prayers, mass and work. Making this walk requires some endurance, especially in Nebraska snow blizzards.
In the 1960s, it was no longer in vogue to attend a minor seminary – high school. Enrollment dropped considerably. The monks didn't miss a beat and decided to keep the main apostolate as a high school for young men. The school was always dedicated to high caliber academics. The monks changed the name of St. John's Seminary to Mount Michael Benedictine High School, a college preparatory school. It, too, was a success from day one. It now opens its doors to local, national, and international students. It has three components now – 7-day boarders, 5-day boarders and day students. The monks have been and continue to be vital to the school.
Although the main apostolate of Mount Michael Abbey is its school, there are other apostolates as well. For many years Mount Michael provided priests to help in the Archdiocese of Omaha and other dioceses as well. Another apostolate is hospitality. Although Mount Michael does not have a retreat house, it does have a restaurant. The monks preserved Rex Olson's house and it is now St. Benedict's Guest House. They have faithfully cared for this house and provided hospitality with food and drink in an atmosphere that is almost story-book like. When one walks into this house at Christmas time, it feels, smells and looks like something from a Christmas carol.
Mount Michael tries to emphasize five Benedictine values—Community, Hospitality, Integrity, Moderation and Service. These are etched in stone in five large arches leading into the new school building. The Benedictine cross has been laid in concrete, tying the chapel and Benedictine spirituality to the school. Mount Michael strives to instill these values in all who visit.