Abbot Theodore Wolff R.I.P.
06/09/23
Abbot Theodore, second Abbot of Mount Michael Abbey, died on Tuesday, June 6 at New Cassel Retirement Center after a brief hospice period.
Abbot Theodore was born August 23, 1928, to Joseph and Loretto (Walsh) Wolff, Sr. of Omaha, Nebraska. He was the second youngest of this couple's five sons and five daughters. Abbot Theodore grew up in the shadows of Omaha's Saint Cecilia Cathedral.
On the feast of the Assumption of Mary in 1948, Abbot Theodore entered the novitiate of Immaculate Conception Abbey in Conception, Missouri. He professed his first vows as a Benedictine on September 3, 1949. Three years later Abbot Theodore professed his solemn perpetual vows.
Having completed his collegiate and theological studies, Abbot Theodore was ordained to the priesthood on May 29, 1954, in the Conception Abbey Basilica by Bishop John P. Cody, later Cardinal Archbishop of Chicago.
Following his ordination, Abbot Theodore served a variety of roles: Assistant Business Manager, Director of Vocations, Oblate Director, Assistant Novice Master of the monks destined for the priesthood, and Laybrother Director. He also served a total of five years as pastor in Springfield and Ravenwood, both in Missouri.
Fifteen years after entering Conception, Abbot Theodore accepted an assignment to Mount Michael. When Mount Michael was raised to the status of an abbey on October 6, 1964, he, like most of the monks, transferred his vow of stability from Conception to the new abbey.
One of Abbot Theodore's first duties was as a dean and teacher in Saint John Vianney Seminary as the school was then known. He taught art, theology, Latin, and Spanish over the years. Abbot Theodore also served as Director of Vocations for the abbey. For three summers he was busy with various activities related to the summer camp for boys conducted by Mount Michael. He enjoyed arts and crafts with the kids and assisted with the horses and teaching the kids how to ride. Abbot Theodore was also a bus driver during the camp sessions. For one year he was on the faculty at Boys Town as a theology instructor.
Abbot Theodore was appointed as Prior in 1970. While serving as Prior, he continued to teach in the school and even served as Co-business Manager and as Business Manager. Abbot Theodore was also Novice Master from 1969 to 1989. On June 1, 1989, Abbot Theodore was elected as our second Abbot. He served in this capacity until June 1, 2007.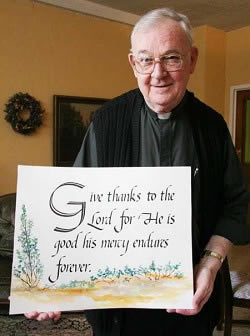 His retirement allowed him to spend even more time on his love for handwriting. His calligraphy can be found in ink, in wood, and in ceramic beautifully gracing the abbey and the school. Abbot Theodore collaborated with Bro. Jerome on designing greeting cards and prints. He continued his faithfulness to the Divine Office and to the practice of lectio divina. He served as a spiritual adviser and provided catechetical instruction to community members, students, oblates, and to the wider community.
Abbot Theodore is survived by the community of Mount Michael Benedictine Abbey as well as his brother F. Patrick (Silvia) Wolff and sisters-in-law Delores Wolff and Joyce Wolff and many nieces, nephews, extended family and friends. Preceding him in death were his parents, Joseph and Loretto (Walsh) Wolff and family members Vincent "Jerry" Wolff, Joseph Wolff, Jr., Sr. Mary Wolff O.P., Theresa Wolff, Elaine Filkins, Margaret Schonebaum, Sr. Loretto Wolff O.P., John Wolff, and Robert Wolff. The Vigil Service will be on Sunday, June 11 at 7:00 pm in the David "D.J." Sokol Memorial Chapel on the Mount Michael campus. Mass of Christian Burial will be Monday, June 12 at 10:00 am, Saint Vincent de Paul Catholic Church, 14330 Eagle Run Drive in Omaha. Interment in Mount Michael Abbey Cemetery.