Latest News
Chapel Talks
Mass & Prayer Schedules
Mass Intention
Mount Michael Caskets
Latest News
Mon, Oct 11, 2021

Fri, Oct 1, 2021
Chapel Talks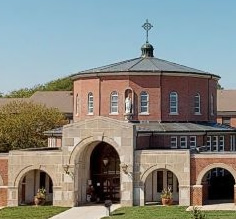 Each Monday during the school year a member of the Monastic Community speaks to the student body about Benedictine Values. Usually this is done during a Monday morning gathering in the chapel. This year due to the Covid-19 Pandemic it is recorded ahead of time and played in each classroom at the start of the week.
Mass & Prayer Schedules
Monday-Friday
6:30am – Morning Prayer
7:15 am – Mass
11:45 am – Mid-day Prayer*
5:15 pm – Evening Prayer (Vespers)
7:00 pm – Night Prayer (Compline)*
Saturday
8:00 am – Morning Prayer & Mass
11:45 am- Mid-day Prayer*
5:15 pm – Evening Prayer (Vespers)
7:00 pm – Night Prayer (Compline)*
Sunday
7:00 am Morning Prayer
9:30 am Mass
11:00 am Mid-day Prayer*
5:15 pm Evening Prayer (Vespers)
7:00 pm Night Prayer (Compline)*
*take place at the Abbey Oratory rather than the chapel.
Mass Intention
Mount Michael Abbey welcomes request for Mass intentions. We will see to it that the Masses are celebrated as promptly as possible.

The offering you make should correspond with that suggested by the diocese in which you reside. Your pastor will be able to inform you of what the stipend of a particular diocese may be.

$10.00 is the suggested offering in the Omaha Archdiocese.

Mass Intentions Online
or
Please address such requests to:
Mass Intentions
Development Office
Mount Michael Benedictine Abbey
22520 Mount Michael Road
Elkhorn, NE 68022
or
402-253-0969 or ext. 1205
Email: massintentions@mountmichael.org

Mount Michael Caskets
Mount Michael Abbey's Caskets

Our Caskets were designed by Bro. Andrew Sorensen, O.S.B. (1921-2007) who worked as the Abbey's carpenter.  Many of our deceased monks are buried in these beautiful hand-made wooden caskets crafted by Bro. Andrew.

Our casket and urn prices have remained the same for a good number of years. However, with the rising prices of wood and other materials, we are going to raise our prices at the beginning of 2022. For the last few months of 2021, our prices will remain the same. If it is possible to store your own casket or urn, it might be wise to purchase soon.
St. Benedict Guest House

A New Beginning For An Old Friend

Consider joining us at Mount Michael Abbey's newly launched St. Benedict guest house, gift shop and flea market barn, hosted by Mount Michael Benedictine Oblates. It's a perfect place for prayer, quiet and good conversation for singles or small groups. Coffee, tea and sweets will be served with our Benedictine value of treating "all guest like Christ".

November – December "CHRISTMAS HOUSE"
Thursdays 10am- 3pm | Fridays 10am -4pm | *Saturday's 9am-3pm
*Saturdays Lectio at 9:30 am
FRIDAYS
November 5th Lectio, Praying the Scriptures 1-2 pm
November 12th Life & Rule of Saint Benedict 1-2 pm
November 19th Lectio Praying the Scriptures 1-2 pm
November 26th Mary, Martha, Retreat "Bring Your Sewing & Craft 1-2 pm
December 3rd Advent Reflection 1-2 pm
December 10th Life & Rule of Saint Benedict 1-2 pm
December 17th Advent Reflection 1-2 pm
Closed December 24th

Christmas Schedule – Open to the Public

Friday, December 24, Christmas Eve Mass   8:00 p.m.
Saturday, December 25, Christmas Day 9:30 a.m.

We plan to welcome as many guests as possible to celebrate the birth of Jesus Christ with us this year. However, plans remain flexible due to the pandemic. To help us plan, please email Melissa at mgathje@mountmichael.org or call 402.253.0969 if you are interested in attending either service. We understand plans may change; we simply want to gauge interest.
OUR MISSION

Mount Michael is a community of vision and promise.  The vision is given life and direction through the Gospel of Jesus Christ and the Rule of St. Benedict.  The promise is kept through dedicated prayer and work.  Time and space are made holy, 'That in all things, God may be glorified.'