Latest News
Chapel Talks
Mass & Prayer Schedules
Mass Intention
Mount Michael Caskets
Latest News
Fri, Sep 11, 2020

Tue, Jun 9, 2020

Mon, Apr 20, 2020
Chapel Talks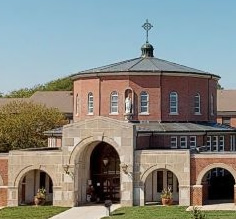 Each Monday during the school year a member of the Monastic Community speaks to the student body about Benedictine Values. Usually this is done during a Monday morning gathering in the chapel. This year due to the Covid-19 Pandemic it is recorded ahead of time and played in each classroom at the start of the week.
Mass & Prayer Schedules
Monday-Friday
6:30am – Morning Prayer
7:15 am – Mass
11:45 am – Mid-day Prayer*
5:15 pm – Evening Prayer (Vespers)
7:00 pm – Night Prayer (Compline)*
Saturday
8:00 am – Morning Prayer & Mass
11:45 am- Mid-day Prayer*
5:15 pm – Evening Prayer (Vespers)
7:00 pm – Night Prayer (Compline)*
Sunday
7:00 am Morning Prayer
9:30 am Mass
11:00 am Mid-day Prayer*
5:15 pm Evening Prayer (Vespers)
7:00 pm Night Prayer (Compline)*
*take place at the Abbey Oratory rather than the chapel.
Mass Intention
Mount Michael Abbey welcomes request for Mass intentions. We will see to it that the Masses are celebrated as promptly as possible.

The offering you make should correspond with that suggested by the diocese in which you reside. Your pastor will be able to inform you of what the stipend of a particular diocese may be.

$10.00 is the suggested offering in the Omaha Archdiocese.

Mass Intentions Online
or
Please address such requests to:
Mass Intentions
Development Office
Mount Michael Benedictine Abbey
22520 Mount Michael Road
Elkhorn, NE 68022
or
402-253-0969 or ext. 1205
Email: massintentions@mountmichael.org

Mount Michael Caskets
Mount Michael Abbey's Caskets

Our Caskets were designed by Bro. Andrew Sorensen, O.S.B. (1921-2007) who worked as the Abbey's carpenter.  Many of our deceased monks are buried in these beautiful hand-made wooden caskets crafted by Bro. Andrew.
Effective Sunday, March 15

All liturgical celebrations – Mass and the Divine Office – by Mount Michael Benedictine Abbey are closed to the public until further notice. Additionally the Abbey will not be receiving visitors or guest.  We are taking such action for your health and safety as well as for the health and safety of our community members. Mount Michael is grateful for your understanding during this difficult time. Be assured of our thoughts and prayers for you. Abbot Michael and the Mount Michael Community.

Due to Covid-19 our services are currently not open to the public.

Sundays Only
Mass 9:30 am


 The monastic community has now moved all our religious services from the chapel located in the school's residential building to the oratory located in the Abbey. 
OUR MISSION

Mount Michael is a community of vision and promise.  The vision is given life and direction through the Gospel of Jesus Christ and the Rule of St. Benedict.  The promise is kept through dedicated prayer and work.  Time and space are made holy, 'That in all things, God may be glorified.'