Apples, Apples, Apples
11/11/19
Years ago our Br. Andrew decided that we needed some apple trees. In the early 60's, he planted an orchard near the water treatment plant. There were about 30 trees at that time. Most of them were yellow and red delicious apple trees, with a few Arkansas Blacks.
As a young monk, I remember picking those apples during harvest season and storing many of them in the fruit cellar near the Guest House. There were bushels and bushels of apples. Most years, we never used all of them and had to haul them all back out of the cellar in the spring.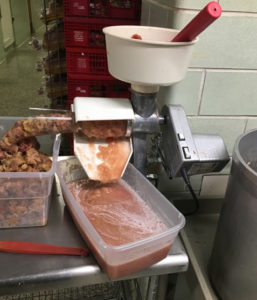 Although there is only one of the yellow delicious apple trees remaining, there are about a dozen red delicious trees still going strong. I have picked lots and lots of apples this year.
I have made apples many ways — apple crisp, apple pie, apples in syrup, cinnamon apples and of course lots of apple sauce. I am sure that I have near 50 gallons of apples in jars at this point and still have many more to process.
Pictured is my applesauce maker. It flows abundantly from this handy little machine and I can fill 5-gallon buckets quickly. The monks will be eating apple "stuff" for a long time this winter and spring. And the students are going to have apple pie for their Thanksgiving meal. That story will come later!
As the saying goes: "An apple a day keeps the doctor away".  – Fr. John